SUMMER DAYS ARE COMING
We hope you are looking forward to more of these balmy days like today! Also as the days get longer the more time we get to SUP as well!
SUPing is a great way to get together with your friends, get amongst the fresh outdoors, as well as move your whole body and so you get a double endorphin release!
---
Check out our latest SUP news:
SUP CRUISIN' 
WATSSUP introduces SUP Cruises this summer! For all you able SUPers take a cruise of the surrounds of Watsons Bay and explore the amazing local beaches including; Camp Cove, Gibsons Beach, Kutti Beach and Vaucluse Bay. 
Book your next SUP Cruise here for this weekend!  (also stay tuned for sunrise and sunset paddles coming soon!!)
---
SUP LESSONS
If you've never paddled before, let our team of experienced instructors fast track your learning process, keep you safe and bring you up to speed with all the correct learning techniques. If you've dabbled on a SUP board before, but haven't worked out the real art of SUP, then a lesson with us will have you SUPing like a PRO. You have the choice of Private Lessons (one on one),  Semi Private (duo private) or join a Group lesson and meet like minded SUpers!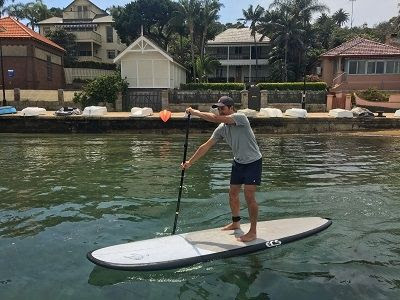 ---
SUP TRAINING
Make the ocean your gymnasium! Calling all experienced SUPers!! If you're gearing to get fit and improve your paddling technique and also meet some great like minded people then SUP FIT is for you. Our SUP FIT group trains up to 4 times a week and has a strong social aspect, but there are also those that like to race or attend special high-performance clinics with WATSSUP. 
Our current WATSSUP team will be racing at the Central Coast Saltwater Festival next weekend! Let us know if you'd like to join the crew or check out our team's experience on our facebook page: Watsons Bay SUP
TRAINING SESSIONS:
Tuesdays and Thursdays 

6am

 (catch the ferry to work after a coffee!)
Saturdays 

7am

 (hellooo weekend!)
Sundays Social Paddle 

9am

 (great first time option!!)
Have you checked out our TRAIN page recently? We've got some exciting training packages which could have you chucking in your indoor gym routine for the fresh air, gorgeous and ever changing natural scenery of Sydney Harbour!
---
CHRISTMAS TEAM SUP! 
Thinking about what you can do for your work's Christmas party? SUPing with your workmates is a great de-stressor; helps input a fun and relaxed feel amongst team members and supports a fit & healthy attribute for work colleagues.
Ask us about how we can help your team with SUP therapy today
Christmas Party fun

Team building sessions

Team fitness programs (who needs a gym when Sydney Harbour is at your doorstep?